Lauren Imai (Author) and Alice Xu (Mentor)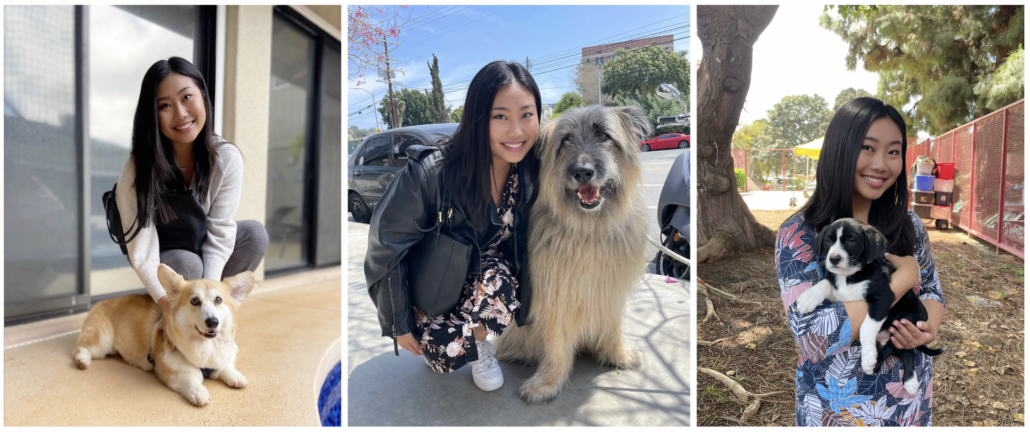 A Furry Prescription
On April 15, 2013, Jessica Kensky was watching runners cross the Boston Marathon finish line when she was suddenly struck down by one of the bomb blasts. Unfortunately, both of her legs had to be amputated. Rescue, a black Labrador, was donated to Kensky and helps her with everyday tasks such as opening doors and putting on her prosthetic legs. But Rescue's impact on Kensky's life extends far beyond just helping her around the house. Rather, he serves as a source of great comfort, hope, and happiness, as detailed in Kensky's novel Rescue and Jessica. Pets are truly a furry prescription to better health, as interacting with them has been shown to improve a person's physical and mental well-being.
Improving Physical Health
Studies have shown that dogs can help a person stay physically healthier. For instance, dog ownership is associated with a lower risk of death over the long term, as it conferred a 31% risk reduction for cardiovascular death (Kramer et al., 2019). Additionally, owning a pet is correlated with greater physical activity. Peacock et al. (2020) found that pets encouraged elderly adults to be more physically active due to the activities involved in pet care. I have witnessed the positive effects of dog ownership on my family members. My maternal grandparents owned a Pembroke Welsh Corgi named Tiger into their 80s, and she definitely kept them on their toes! Tiger was a very high-energy dog, constantly leading them to the front yard to play with her, jumping on them to beg for treats, and asking to go out on walks.
Another study explored the broader benefits of general pet ownership, especially among people living with dementia, and found that owning a pet was associated with exercising over three hours in the last week (Opdebeeck et al., 2021). Both of my maternal grandparents suffered from dementia when they moved in with my family a few years ago. While they couldn't exercise over three hours per week due to physical reasons, my Pembroke Welsh Corgi, Dexter, helped keep them active. When they would exercise to videos on YouTube, Dexter sat by their side the entire time, looking up at them every now and then to keep them going. Dexter also encouraged both of them to walk up and down our hallway several times a day, and they loved his companionship while doing so.
Improving Mood and Mental Health
Studies have also shown that dogs can also improve a person's mood and mental health. One study investigated the benefits of interacting with a dog on university students' mood and anxiety. Researchers found that directly interacting with a dog resulted in greater declines in anxiety and significantly improved mood scores compared to a group that only watched a video of a dog (Thelwell, 2019). A similar study conducted by Machová et al. (2020) examined the effects of dog presence on stress levels in university students during exam season. Results showed that a mere 10 minutes of interacting with a therapy dog led to a significant improvement in students' mood and reduced stress levels. This finding is something I can personally attest to. Whenever UCLA hosts a therapy dog meet-and-greet, I can feel my stress melting away and my happiness increasing when I pet the dogs at the event, even if I only stay for 10-20 minutes.
However, these benefits can extend beyond just interacting with dogs. Another study interviewed older adults regarding the effects of general pet ownership on their mental health. Four themes emerged: Pets provide comfort and safety, social inclusion and participation, purposeful routine and structure, and a meaningful role (Hui Gan et al., 2020). The participants noted that their pets uplifted them by serving as a "constant" and that they "care for you as much as you care for them." All participants mentioned that their pet "connected" them to others which gave them a sense of belonging with their loved ones and other community members. Additionally, pets provided the participants with routine and gave their day structure, which positively impacted their mental health. Finally, many of the participants viewed their pet as their "child," causing them to plan ahead and even incorporate their pets into their plans.
Conclusion
Although owning a pet has numerous benefits for one's mental and physical health, it also entails significant responsibilities and costs that may not be manageable for everyone. Fortunately, there are many events here in Los Angeles that welcome you to interact with pets (and you don't have to bring your pet to come)! Over the Memorial Day weekend, my friend and I attended the 2023 Corgi Nationals in Santa Anita, and we were able to pet and hug so many corgis. That being said, if you are thinking of becoming a pet owner, I'd like to encourage you to adopt! At the Melrose Trading Post, the LA 4 Animals Foundation came and introduced my friend and me to several of the cutest rescue dogs available for adoption. As a proud mom to Dexter, I can wholeheartedly confirm that he has changed my life for the better and is my greatest blessing. It's the best feeling in the world to come home to him. The unconditional love, support, and companionship Dexter provides my family and myself with is immeasurable.
References
Hui Gan, G. Z., Hill, A. M., Yeung, P., Keesing, S., & Netto, J. A. (2020). Pet ownership and its influence on mental health in older adults. Aging & mental health, 24(10), 1605–1612. https://doi.org/10.1080/13607863.2019.1633620
Kramer, C. K., Mehmood, S., & Suen, R. S. (2019). Dog Ownership and Survival: A Systematic Review and Meta-Analysis. Circulation. Cardiovascular quality and outcomes, 12(10), e005554. https://doi.org/10.1161/CIRCOUTCOMES.119.005554
Machová, K., Procházková, R., Vadroňová, M., Součková, M., & Prouzová, E. (2020). Effect of Dog Presence on Stress Levels in Students under Psychological Strain: A Pilot Study. International journal of environmental research and public health, 17(7), 2286. https://doi.org/10.3390/ijerph17072286
Mullins, L., & Jolicoeur, L. (2018). How a Dog Named Rescue Helped a Marathon Bombing Survivor Heal. WBUR News. https://www.wbur.org/news/2018/04/11/rescue-and-jessica
Opdebeeck, C., Katsaris, M. A., Martyr, A., Lamont, R. A., Pickett, J. A., Rippon, I., Thom, J. M., Victor, C., & Clare, L. (2021). What Are the Benefits of Pet Ownership and Care Among People With Mild-to-Moderate Dementia? Findings From the IDEAL programme. Journal of applied gerontology : the official journal of the Southern Gerontological Society, 40(11), 1559–1567. https://doi.org/10.1177/0733464820962619
Peacock, M., Netto, J., Yeung, P., McVeigh, J., & Hill, A. M. (2020). Understanding the Relationship Between Pet Ownership and Physical Activity Among Older Community-Dwelling Adults-A Mixed Methods Study. Journal of aging and physical activity, 28(1), 131–139. https://doi.org/10.1123/japa.2019-0056
Thelwell, E. L. R. (2019). Paws for Thought: A Controlled Study Investigating the Benefits of Interacting with a House-Trained Dog on University Students Mood and Anxiety. Animals: an open access journal from MDPI, 9(10), 846. https://doi.org/10.3390/ani9100846